The Young Christmas Album 2 - ST 5 IN C (Posaune/Euphonium)
Kurzbeschreibung
Die zweite Sammlung mit 12 internationalen Weihnachtsliedern.
Flexible 5-stimmige Besetzung für Klarinetten-Ensemble, Holzbläser-Ensemble, Saxophon-Ensemble,
Blechbläser-Ensemble, Fanfare-Orchester (+ BeNeLux-Stimmen), Blasorchester oder Brass Band.
Produkt Tags
Inhalt
1.)

JOY TO THE WORLD

2.)

O SANCTISSIMA

3.)

THE FIRST NOEL

4.)

PAT A PAN

5.)

COME ALL YE SHEPHERDS

6.)

GOD REST YOU MERRY GENTLEMEN

7.)

GATHER AROUND THE CHRISTMAS TREE

8.)

GLORIA IN EXCELSIS DEO

9.)

MARY HAD A BABY

10.)

Adeste fideles (Herbei o ihr Glaeubigen/O come all ye faithful)

11.)

KLING GLOECKCHEN KLINGELINGELING

12.)

STILLE NACHT
Artikel Attribute
Besetzung
ST 5 IN C (Posaune/Euphonium)
Artikelnummern
Bestellnummer
RUNDEL 4003-21
Mehr von Vlak Kees aus Einzelstimmen allg.
Zuletzt angesehene Artikel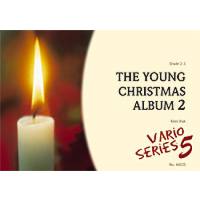 4,50
€